Running out of energy and feeling the first signs of fatigue is possibly the worst thing that can happen during a workout. To avoid it, bodybuilders, crossfitters, endurance athletes and other athletes have a great ally: BCAA supplementation . Let's explain how.
What are BCAAs and how do they work?
The branched chain amino acids (BCAA – Branched Chain Amino Acids) – leucine, isoleucine and valine – are the three most important amino acids. First, because they belong to the group of essential amino acids, which means that our body is not able to synthesize them, so their only source is our diet or supplementation. Second, because BCAAs account for about 35% of the essential amino acids that make up muscle proteins, and during situations of stress to the body, such as intense training or poor nutrition, are used as a source of energy by muscles.
BCAAs play an important role in muscle protein synthesis and are useful for providing energy when glucose levels are low , which easily happens when we are on a diet for weight loss or the cutting phase before a bodybuilding competition. In fact, taking a BCAA supplement before exercise has been shown to be an effective way to reduce fatigue and promote endurance .
For these reasons, BCAAs are among the most popular supplements for sports players looking to not only feed their muscles during training but also their recovery in the end. And what are the best selling BCAA formulas on the market?
Based on the quality of the ingredients, the effectiveness and criticism of our customers, we select the best selling BCAA's for you. Take a look at the list below before choosing your ally.
Xcore Nutrition BCAA 8: 1: 1 Complex SS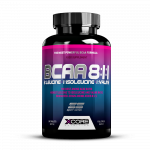 Taking its motto "extreme measures for extreme results" to the letter, the Xcore Nutrition team of experts has developed a supplement with the most powerful BCAA ratio there is – 8: 1: 1 leucine for isoleucine and valine. With a high content of leucine – the most important amino acid for muscle protein synthesis – this is the perfect product to promote the recovery of the demanding athletes who are subjected to intense training sessions. In addition, the BCAA 8: 1: 1 Complex SS was enriched with B-complex vitamins for a more complete action.
Scitec BCAA 6400
The Scitec BCAA 6400 offers good value for money, as the reputation of the brand suggests and the thousands of comments from our customers confirm. Its formula is simple, and therefore effective. Per serving, it provides 2240 mg of leucine, 1120 mg of isoleucine and 1120 mg of valine, which represents a balanced ratio of 2: 1: 1 of these three important amino acids for muscle protein synthesis.
Okygen Sports BCAA 4: 1: 1
Okygen has taken seriously its mission to offer a complete selection of high quality supplements. And when their scientists found that most of the BCAA supplements on the market did not contain enough leucine or the minimally acceptable ratio of 2: 1: 1, Okygen knew what to do: develop a BCAA formula with a propotion of leucine that really worked. With a ratio of 4: 1: 1, that is, containing four times more leucine than the other amino acids,  Okygen Sports BCAA will definitely help you feel the difference in training.
Prozis Sport BCAA 2000
Prozis formulated BCAA 2000 to provide quality branched chain amino acids in a 2: 1: 1 ratio, and that is what it is. In fact, it even offers something else: vitamins B2 and B6 . These B-complex vitamins promote the energy-producing metabolism of the body and act side by side with BCAAs to support the absorption and synthesis of proteins. BCAA 2000 is available in easy-to-take tablets anywhere, anytime.
Xcore Nutrition BCAA Powder
This powdered formula from Xcore Nutrition has been subjected to a meticulous micronisation process. The result? High purity particles and easier to mix, which are digested and absorbed more quickly. In addition, Xcore Nutrition's BCAA Powder has not only several refreshing flavors available, such as lemon-lime, orange, cola or even mojito, but also an aroma-free version, ideal for mixing with your favorite juice or protein shake without altering its flavor.
USPLabs Modern BCAA +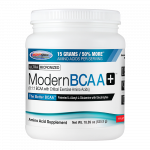 Known worldwide for products such as Jack3d®, USPLabs has accustomed its customers to truly powerful add-ons. The Modern BCAA + is one of those cases where they invested everything in creating the best BCAA supplement possible. The result is an instant-blended ultra-micronized product developed with a powerful 8: 1: 1 ratio of leucine to isoleucine and valine and combined with its patented SustamineTM formula – a more stable form of glutamine.
Xcore Nutrition BCAA Complex 3100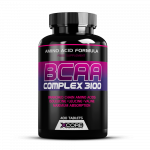 With just the hardcore in mind, the Xcore Nutrition team of experts has developed a branched-chain amino acid supplement for all dedicated athletes. The BCAA Complex 3100contains leucine, valine and isoleucine with the highest quality in a ratio of 2: 1: 1 was supplemented with B vitamins, in particular vitamin B2 and B6 . In addition, this product is available in super practical tablets: 4000 tablets, to be exact, which means more than two months of supplementation per bottle.
Win Nutrition BCAA +
Win Nutrition offers a range of affordable but not "inexpensive" supplements. Your BCAA + provides the three branched chain amino acids l eucine, isoleucine and valine in a form your body can use, and 5 extra grams of maltodextrin to help transport these amino acids directly to your muscles. And all this in a powder supplement that also offers a good value for money.
MuscleTech Platinum 100% BCAA 8: 1: 1
Formulated with one of the most potent BCAA ratios on the market, Muscletech's 8: 1: 1 Platinum BCAA provides 1000mg of pure branched chain amino acids per dose and ensures that your muscles are properly charged with leucine for true results. This formula is part of Muscletch's Essential Series line, one of the best supplement lines in the industry, which has been specially developed to ensure the needs of all athletes.
BSN AMINOx ™
BSN® has earned a reputation as one of the most innovative sports nutrition companies in the world, and its first branched-chain amino acid product falls far short of expectations. The AMINOxTM is the first instant effervescent supplement of BCAA, therefore, presents a formula that allows all the nutrients are rapidly and completely absorbed. So you know you'll be able to get the most out of your 4g of pure BCAAs at each dose, plus 10g of the anti-catabolic amino acids L-alanine, L-arginin, and L-taurine . And all this with 0g of sugars.